Bark Mulch Installation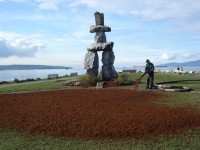 West Coast Bark Products shares an office with Pacific Bark Blowers, a company specializing in installation of bark and soil products by blower truck.
Pacific Bark Blowers will install your Bark Mulch saving you the trouble of picking the product up or having it delivered.  There are no messy piles, no shoveling or raking, and no worries when you use Pacific Bark Blowers.  They deliver, install and clean up your site while you sit back and watch.
Pacific Bark Blowers has a 10 cubic yard minimum (covers 1000 square feet at 3 inches deep) for Bark Mulch jobs.
For more information call Pacific Bark Blowers at (604) 436-2275 or visit them at www.pacificbarkblowers.com
Call now for a Free Estimate!
Pacific Bark Blowers has worked on such high profile jobs as the Vancouver Art Gallery and the Sea to Sky highway.