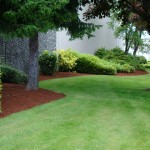 Benefits of using Douglas Fir Bark Mulch:
Bark Mulch is an environmentally friendly way to control weeds and promote plant growth in your garden.
Douglas Fir Bark Mulch is pH neutral and won't harm your plants or trees.
As the Bark Mulch decomposes, it adds much needed organic material to the soil.